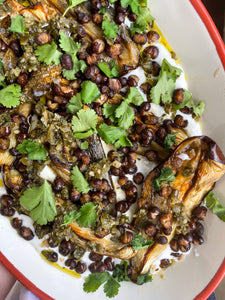 Our Top Black Carlin Pea Recipes
Our Top Carlin Pea Recipes
Recipes to make you question why ON EARTH we haven't been eating + celebrating this British pulse sooner.
Our Carlin are nutty + creamy; they have tender skins but a satisfying bite and make a DELICIOUS British substitution for chickpeas.
Our partners, Hodmedod's, are an incredible company, championing the pulses + grains that have been growing on British soil for centuries but have long been forgotten by our food culture.  This first harvest are grown in Cambridgeshire and are cooked The Bold Bean way to bring you THE MOST DELICIOUS BEANS OUT THERE.
For more of the history around this British pulse, have a read of this blog post.
But the question you're probably most keen to hear the answer to is HOW CAN I USE THEM? This blog post ventures into exactly that, to celebrate the versatility and all round DELICIOUSNESS of this British pulse which will make you question why we haven't been eating it sooner.  


with yogurt + pickled chillis
A sneak peak into Joe Woodhouse's new cookbook; More Daily Veg. Out September 26th.