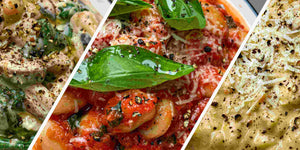 Beans in Pasta Sauce 3 Ways
BEANS IN PASTA SAUCE 3 WAYS. How to use your favourite pasta sauces WITHOUT the pasta.
Hear us out.
We love pasta just as much as the next guy. It's filling, substantial + honours those carb cravings. But hey, guess what? BEANS CAN DO THAT TOO. Just in a slightly different way.
Let's explain...
Beans are a complex carbohydrate + have a low glycemic index (GI) which means they produce a relatively low rise in blood glucose after a meal. This slow-release in energy means that eating beans will keep you filling fuller + more energised for longer, with fewer slumps or energy spikes. 
HAVING SAID THAT.
We totally get that upping your bean intake can be daunting! But, when you pair pasta WITH beans, you are actually achieving high biological value proteins, meaning your body can get all the essential amino acids required for protein synthesis to happen: the process used to create proteins so that we can build + repair muscles, curb hunger + maintain a healthy weight. So before you go ditching the pasta completely, instead try a 60:40 split of beans:pasta to really notice those benefits. 
WHAT'S MORE..
Our beans go through a very low + slow cooking process and are seasoned throughout, which is why you may hear us talking about eating our beans STRAIGHT FROM THE JAR, meaning the hard work is already done for you + you can whip up a dish FASTA THAN PASTA. No water to boil, no pasta cooking time to endure, just a quick sauce to whip up + quality beans to bathe right into it. 
BUT WAIT..WHAT ABOUT THE PASTA WATER?! That folks, is called BEAN STOCK.
You see, our beans are cooked in just salt + water (just like pasta), so the liquid you see in our jars is LIQUID GOLD. Stir that stuff through your sauces just like you would with a splash of pasta water + you'll create the most silky, glossy, SUPER luscious sauce in no time. 
Here's our 3 favourite ways we like to get saucy:
This creamy, classic flavour combination is also fibre-full, super satisfying + a great way to pack in some extra veggies. Apart from creme fraiche, the added creaminess comes from our Organic White Beans + their bean stock to give it that luscious sauce. Scatter over some parsley at the end to bring the fresh kick. 
A rich, spicy tomato sauce to you + us! Flavoured with fresh basil + parmesan: classic Italian flavours boosted with the greatness of the bean! We recommend using our Queen Butter Beans for this dish as their big, fat, juiciness cling onto the sauce like any pasta shape would (we call 'em natures gnocchi for a reason!). 15 mins from prep to plate. 
One of the most-loved pasta dishes has just been TRANSFORMED with beans, which DEFINITELY isn't a compromise on it's usual indulgence. Just a handful of ingredients makes a bean bowl of BEAUTY. Once you've mastered the sauce, the rest is done for you! 
And if none of the above tickle your fancy (maybe you're more of a Pesto Peter or a Bolognese Beryl), simple rustle them up, stir through your beans + HEY P(R)ESTO, a speedy filling, NUTRITIOUSLY DELICIOUS dish to serve any night of the week.