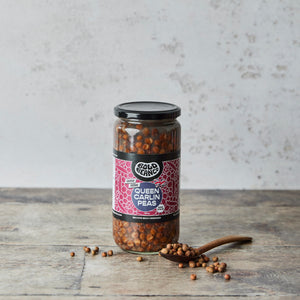 The Carlin Pea: Britain's Best-Kept Secret
Introducing THE CARLIN PEA
Britain's Best-Kept Secret
These Carlins - also known as Black Badgers, Pigeon Peas, Grey Peas - are one of Britain's best kept secrets: seriously, we CAN'T BELIEVE we haven't been eating this British pulse sooner. But we're about to spill the beans on everything you need to know about this British beauty.
We have wanted to launch a British bean since the very beginning, so why didn't we?
If you're new here, HI!, let's revert back to our mission: to make people OBSESSED with beans by giving them the BEST of beans. And we feel pretty confident that we've accomplished this with the mainstream varieties with launching The Queen Chickpea and The Queen Butter Bean in other words "the populars", (or the cheerleaders + the jocks, if ya like).
But when it comes to British pulses, unfortunately, these guys aren't as well known. So it would've been a BIG risk trying to make everyone bean-obsessed by launching a bean that no one knew anything about! 
But this is so much more than a popularity contest...
When launching a British bean, we knew this product just HAD to match the quality of our current range.
Our partners,
Hodmedod's
, are an incredible company, championing the pulses + grains that have been growing on British soil for centuries but have long been forgotten by our food culture. And so these guys were top of our list to partner with to produce the best of British-grown beans and bring them to you The Bold Bean, BEST TASTING, way. This first harvest are grown in Cambridgeshire and are cooked The Bold Bean way, to bring you THE MOST DELICIOUS BEANS OUT THERE.
We could persuade you to try these beans through taste alone, but rest assured by choosing this pulse, you + we are also
🧑‍🌾supporting British farmers
🌱supporting British soils
🔒enhancing our food security here in the UK
Yup. These peas go WAY back Historian heads on 🤓 Carlins were cultivated by monks in the middle ages - where pulses formed a major part of their diet (HIGH-FIVE). They grow to about 6 feet high and are poppin' with purple + white blossoms (oo la la) - The rich purple colour is also an indication of the high level of anti-oxidant anthocyanins in the peas. Watch them in action here. 
They've been known to make a bold show during lent in the North East of England, Yorkshire + Lancashire - so much so that Passion Sunday (the 5th Sunday in Lent) become known as CARLIN SUNDAY - with farting Monday following straight after, seriously!!💨💨💨 LOL.
They are most popularly served as
Parched Peas
in Lancashire, simply boiled up and eaten with vinegar and salt. And they just don't go by "The Carlin" -  elsewhere they are known as brown badgers, black peas, grey peas, maple pease or pigeon peas. They are TECHNICALLY peas, being a variety of the common edible pea,
Pisum sativum
.
THEY'RE BOLD BEANS. OF COURSE THEY'RE TASTY.
No but seriously, these Carlin's HAVE BLOWN OUR MINDS. They're nutty + creamy, with tender skins but a satisfying bite. Like with our entire range, we encourage you to eat these peas out of the jar too - they produce a bean stock that tastes almost like a very VERY good gravy.
For centuries, they've been popular as an outdoor snack or festivals, fairgrounds + markets, where they're commonly boiled, slathered in salt + vinegar and served in a brown paper bag. Check out
this recipe
if you fancy giving it a go!
Other traditional recipes include seasoning with brown sugar, butter + rum, mixing them into patties with breadcrumbs + onions; and boiling them up with a ham shank.
A British Substitution to Chickpeas?
Their nutty flavour, sorta like a chestnut, and firm texture work well in any recipe that calls for chickpeas, particularly when blitzing them into a silky dip or crisping them up in a salad.
They lend themselves to ultra comfort dishes - particularly those rich, brown foods that we often associate with British cooking (think your shepherds pies, your cassoulets). We love them simmered in a french onion bake topped with a bubbling gryere cheese crust, in a hearty sausage + carlin pea stew, or even crisped up in the oven to toss into salads.
Loved by Top British Chefs
While we've lost much of our food heritage over the years, we hope that this bean is about to make a comeback.