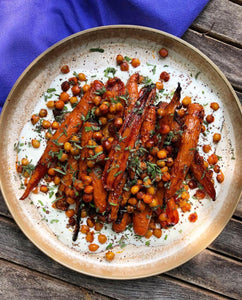 Honey Roasted Carrots with Harissa Chickpeas on Sumac Yoghurt

HUGE thanks to the legend that is Anna, aka @the_goodegg_, who let us share this #beanspo on our website for all you champs to enjoy.
Anna is a Le Cordon Bleu trained chef from Scotland. She loves creating recipes inspired by the seasons + encourages others to do the same. Take a look at her page on cooklybookly + you'll pretty soon be inspired! Her food is STUNNING! If you like this recipe, she's created an ebook where you can try out even more of her recipes. Give it a download here.
1 comment