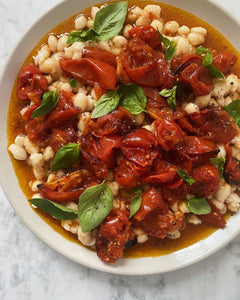 Our top 10 Bean + Tomato Recipes
Our Top 10 Bean + Tomato Recipes
Nothing quite hits the spot like eating your first juicy tomato of the season. Pair that with beans? AND BY GOSH you've got a seriously dynamic duo. That's why quality is key here: quality beans + the seasons finest ingredients means you need little else adding to the meal to really make it pop. Make the most of tomato season and get your hands on the ripest, plumpest you can find. How to tell? Give them a smell! You'll be able spot a ripe tom a mile off. Here's 10 of our favourite recipes that showcases this duo in their full glory.
This dish appreciates both the tom + the bean in it's full glory: there's no room for hiding here! But when you can get your hand on the best quality, you can let those ingredients do the talk with very little else doing to them.  A hunk of crusty bread is a must for scooping + mopping the juices. 
If you're unfamiliar with confit-ing, it's a process of cooking something low + slow while it bathes in a load of olive oil + a handful of extra flavourings. Here, the tomatoes go soft + jammy while the chickpeas have that crisp outer but keep their soft centre. An ideal topper to tumble onto whipped feta crostinis.
A caprese salad is a summer DELIGHT. What makes it better? Big, creamy, juicy QUEEN BUTTER BEANS. Not only do the beans add extra protein, but they also turn a very light salad into something more satisfying + filling. Don't have time to marinate the toms? No fear. You can simply use the marinade as a dressing to drizzle the salad with at the very end, meaning it's ready to whip up in as little as 10 minutes! 
THIS is what we call a hearty dish. The charred fennel + our Queen Butter Beans create a real sturdy + satisfying base for the roasted toms to sit on top of. It's super balanced, full of texture + flavour AND you've got the added bonus of a bit of parmesan to top it all off. DELICIOUS. You can watch this recipe in action here. 
We'll hold our hands up + say that we're partial to flavours of the med. BUT, this asian-inspired dish showcases beans + tomatoes in a whole new culinary light. It's fiery thanks to the gochujang paste + a wee bit indulgent thanks to the cream, and makes a seriously tasty dinner any night of the week. We've topped ours with crispy kale, but a bit of pak choi would also work wonders. 
A dinner party DELIGHT. Tomatoes + certainly beans may not be the first on your radar to impress at a dinner party, but we reckon this dish proves otherwise! We're pulping the chickpeas here and allowing those sweet juices to bath into our Queen Chickpeas. A cool base of creamy, slightly tangy goats cheese sets it all off.
Our most loved recipe to date - AND TOO RIGHT!! The toms are blistered + are fired up with punchy harissa. Queen Chickpeas create the bulk of the dish and it's all set off with a cooling, herby caper yog. Not only is it flavour-packed but it's also ready in just 10 minutes. WINNER WINNER BEANS + TOMS FOR DINNER. The toms are blistered + swirled through a punchy harissa

If you're in need of a recipe to add to your weeknight dinner recipe bank, then THIS is the recipe for you. It's got everything you could want in a meal; nourishing, ziny, creamy + comforting; it's both one for the hot + cooler months and has a real banging balance of flavour. 
THIS IS WHAT BEANS ON TOAST LOOKS LIKE. Crispy chickpeas, jammy toms + tangy feta all tumbled onto crispy hunks of sourdough. A bit of pesto to drizzle on top is a MIGHTY FINE addition too!
A caprese take 2. This one requires a little more labour of love as the toms are slowly roasted until bursting + jammy, giving a hot + cold contrast to that creamy mozzarella. Forget salad leaves, our white beans create the base of the salad + give this guy some real oomph.