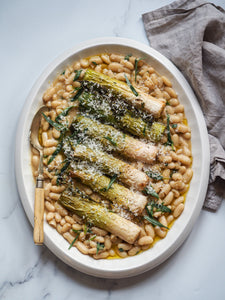 Cacio e Pepe beans + baked leeks
HUGE thanks to the legend that is Klara, aka @klararisbergcooks, who let us share this #beanspo on our website for all you champs to enjoy.
This Swedish-born chef, food photographer + recipe developer works with the seasons to create STUNNING recipes with real style + using flavours from across the world.  
"I am a huge fan of all beans, the world needs to fully embrace this little pulse of joy. They are incredibly versatile and so nutritious, yet very easy to succeed with." Klara aka a REAL #BEANCHAMP
Check out her website here to see some insanely tasty recipes to make your mouth water + lure you right into the kitchen.