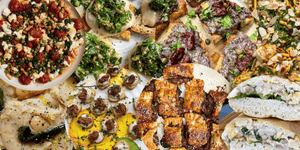 Picnic Beans
PICNIC BEANS
How to keep your picnics FULL OF BEANS.. and we're not just talking hummus + carrot sticks. 
There's just something about eating al-fresco that just makes everything taste better. But as much as a fresh salad sure hits the spot during the summer months, they sure don't travel well, and limp lettuce leaves just aren't worth your disappointment. So we've put together our most TASTY, finger-food + tupperware-friendly recipes that are gonna give your gingham blankets + outdoor spreads some well deserved excitement. 
Sausage rolls are a picnic STAPLE.  But there is no sausage in these rolls. Instead, our 
Queen Red Beans
create that meatiness and are paired with a punchy stilton and the sweetness of honey to create a real indulgent crowd pleaser - we bet you won't even miss the original! 
Step aside hummus, this beany tapenade is the new, chic dip on the block. What makes it better to a traditional tapenade?  THE QUEEN BLACK BEANS. Their earthiness give it some real body + really pack a punch with those sharp olives + capers. Smother onto crispy crostinis or dunk into with crudites. 
We all love a Coronation Chicken - very nostalgic, very British and now darn sustainable as you can sub the chicken for
QUEEN CHICKPEAS
. Stuff 'em in a sandwich for the classic way, or tumble onto crunchy lettuce leaves for a real party platter.
Chic, sophisticated + a wee bit dainty: 3 words you never thought could associate with beans!! But these guys are sure BOLD in flavour. The salsa verde gives a real zing to set off that creamy white bean puree. Quick + simple to make (but we've suggest assembling before tupperwaring!). 
 What's a picnic without a well-packed sarnie? And let us tell you, this one is PRETTY MEGA. The key to a good sarnie is not skimping on the filling; our Organic White Beans give this guy oomph, juiciness + added protein, paired with basil, parmesan + lemon, all stuffed into fluffy focaccia.    
HUMMUS WHO?! This creamy, dreamy butter bean mash is the new dip you'll be dunking into on repeat. Our Queen Butter Beans or Organic White Beans can be used interchangeably here, either way you'll still notice that silky texture. 
A sexy salad without the fear of limp lettuce leaves. It's fresh, it's light + it's everything you could want on a hot summers day. You could even keep the tomatoes fresh to keep this recipe even simpler. 
Another member of the bean crostini crew. And if you're unfamiliar with muhammara, it's a spiced dip made with roasted peppers + walnuts: we love it's fierce flavour on top of our creamy Queen Butter Beans to balance everything out. If you're not packing into picnics, serve them as a chic canape at a garden party of summer evening spread. Definitely one to pair with a tipple or two.